4GB DDR3 PC3-8500 SODIMM
4GB DDR3 PC3-8500 SODIMM CoreHT Series (HT Server, HT 252B, HT 235D, HT 235B, HT 233D, HT 233B, HT 231D, HT 231B Memory

RAM

, Memorystock Part No:

840ms-840
4GB DDR3 PC3-8500 CL7 204Pin 128x8 DDR3-1066 Sodimm Laptop Ram Memory Upgrade.. Compatible memory for CoreHT Series (HT Server, HT 252B, HT 235D, HT 235B, HT 233D, HT 233B, HT 231D, HT 231B

We carry many major manfacturers compatible memory upgrades for the selected model
Please choose and order your desired brand memory:


Brand
Sale Price
Qty

$

14.95

Check quantity discount
HP Original

$29.95
Check quantity discount
Hynix Original

$19.95
Check quantity discount
Samsung

$22.95
Check quantity discount
PQI

$16.95
Check quantity discount

Availability : In Stock. Ready to Ship.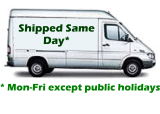 Fast, Secure and Cheap shipping options available throughout USA, CANADA, UK and other countries.
Click here to view all shipping options and rates.


COREHT SERIES (HT SERVER, HT 252B, HT 235D, HT 235B, HT 233D, HT 233B, HT 231D, HT 231B 4GB DDR3 PC3-8500 SODIMM
Rating: 4.9 out of 5.

Customer Reviews.
100% Genuine Original Memory
Easy Return No Questions Asked!
30 Days Moneyback Guarantee
Secure Payment100% Secure